A month ago, PIE and 482Forward Youth traveled to Minneapolis, MN to present at the 12th semi-annual Free Minds Free People Conference (FMFP). Our director Nate Mullen joined Emily Gonzales, Valeria Rios-Hernandez and Matt Homrich Knieling to share learnings and practices of organizing and humanizing schooling to an audience as hungry for conversation and transformation in education as we are. But what we experienced went beyond the content of our workshop. We heard from dynamic panelists, including Mariame Kaba and David Stovall who spoke about youth incarceration and the school-prison nexus. We saw beautiful performance art from the creators and members of Indigenous Roots. We learned about citizenship and immigration at school in a state named for its native people and a city known for its immigrant population. And we explored the Twin Cities, where local vendors fed us and residents welcomed us and shared their history and traditions.
In the weeks after FMFP, we spoke to 482Forward Youth about their experiences in the Twin Cities and attending the conference. They traveled together with young people from Detroit Area Youth Uniting Michigan (DAYUM), an activist organization run by high school students. We asked them about their travels, connections, learnings and inspirations.
"The downtown area was pretty similar to ours," said Valeria Rios-Hernandez, 482Forward Youth member and college freshman. "I do feel like I didn't get to get the full Minneapolis experience because we were downtown where there was so much gentrification. But… there was a lot of people of color there so I did feel at home."
Speaking of people of color, Rios-Hernandez and her fellow 482Forward Youth member Emily Gonzales, a high school sophomore from Detroit, spoke frequently about the immigrants and indigenous people in Minneapolis and at the conference. If FMFP's goal with its location and programming was to inspire more work around race equity and inclusion, they succeeded with these young people. Their experiences were so profound that they were excited to bring their learnings back to Detroit.
"Since I'm joining MI Students Dream, we are planning to show students how to get a higher education being undocumented in Detroit," said Gonzales. She explained this while reflecting on the "Disrupting the School-to-Deportation Pipeline" workshop put on by Teach Dream and New York State Youth Leadership Council (NYSYLC). "If they're doing this in another city, it's possible for us to do it in Detroit. They knew what they were talking about and they made it very sweet and to the point."These astute observations and conclusions didn't stop with the workshop. Gonzales also talked about FMFP's uplifting of indigenous communities and how it could shape her work with 482Forward's semi annual conference planning.
"I like how they started off the first day with the native dances and everything. I felt like that was very powerful because it was a very big symbol of respect. I feel like at our [482Forward] conferences we can start off doing that… it really stepped us out on the right foot for the whole conference."
Gonzales reflected on just two of over 100 convenings, panels, tours and gatherings during this year's FMFP programming. It was impossible to make it to everything, and also impossible nonetheless to miss the gems each speaker, presenter and facilitator had in store.
"When black men are ready to embrace black trans women, then we can have a conversation about liberation." This was one of the many jewels author and researcher Bettina L. Love dropped during the opening plenary. Rios-Hernandez spoke about the impact Love's words had on her.
"The way that she spoke really impacted me because she made people feel… like they didn't have to be ashamed of their own experiences, because she wasn't ashamed when speaking of them. So I think when I want to talk about my own experiences, I feel like I want to make people feel comfortable… because many of us have gone through it."
Rios-Hernandez did speak about her experiences, along with PIE Director Nate Mullen; educator, organizer and writer, Matthew Homrich-Knieling and Emily Gonzales during our workshop, "Organizing to Humanize Schooling in Detroit."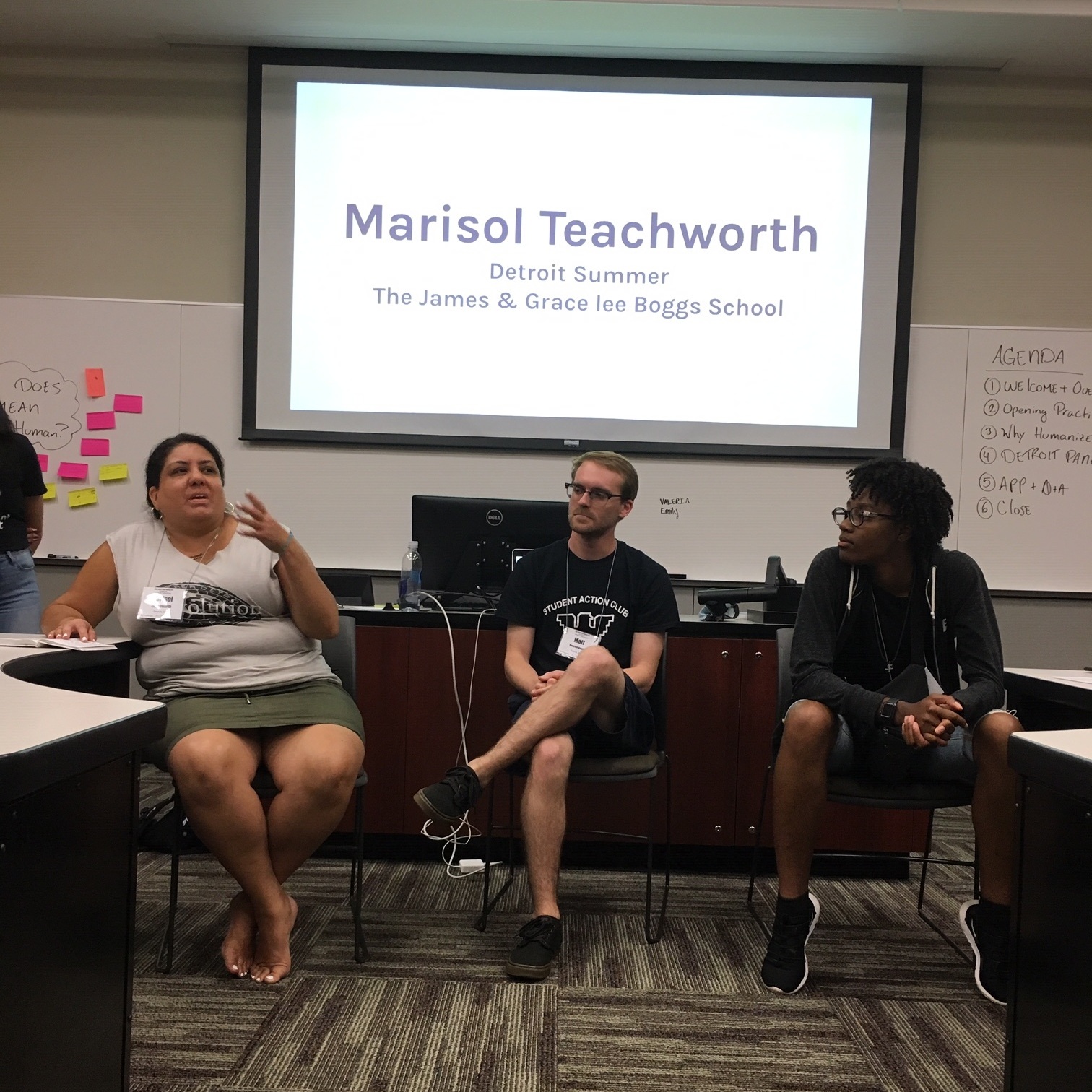 The workshop opened with a centering activity where presenters read "Wild Geese" by Mary Oliver to bring participants' attention into the room. After an overview of workshop presenters and their work in Detroit, we moved into a space of inquiry, asking questions like "Does school make room for our humanity?" A group discussion led to Mullen's introduction of his own schooling experience in Detroit. From there, we hosted a dynamic panel of people from various vantage points of education: High school student Tay, educator Marisol Teachworth and Homrich-Knieling talked about their passions, hopes and work in education and answered questions from attendees. These attendees, by the way, were all from Detroit! Homrich-Knieling reflected on the workshop:
"So basically, a bunch of folx from Detroit went to Minneapolis and we all ended up in the same room to talk educational justice and liberation, which was beautiful and hilarious. It felt so good to be in community with everyone, to learn about transformative work happening across the city, and to share our experiences working to humanize schooling in Detroit… Even though so much is not working in our schools, there are so many communities… in Detroit creating opportunities for young folx to learn, to create, to collaborate with adults meaningfully, to fight for justice & freedom."
In fact, "Getting Free, Imagining Freedom" was the overall theme of the conference. Seems like we hit the mark.
Check out some views of the conference from our vantage point: